Office of Academic Affairs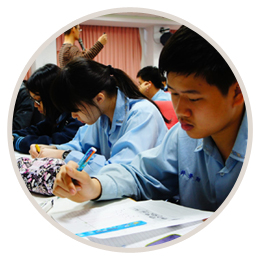 The school is a comprehensive Junior-Senior High School. Office of Academic Affairs is in charge of 6-year curriculum design, recruit students and develop and expand the school-based curriculum as well as activities.
The collaboration between the administrative team and all the subject teachers 'communities, students benefit a lot from the school. The school have been cultivating students' learning attitude, developing their potential and preparing them to a diverse society. Student will build a solid foundation and gain the knowledge of the field in humanities and science when studying at Dongshan High School.
The Introduction to Each Section:
Curriculum Section:

Command the teaching progress of all disciplines at school, and have a closely communication with junior and senior high school teaching team to plan the whole school curriculum
Schedule senior high school curriculum and various adaptive counseling classes.
Plan school-based curriculum and the direction of it
Integrate and coordinate of the mathematics, bilingual, orchestra, information and other orientation courses
Integrate the progress and curriculum of each class of senior high school
Handle subject assessments, the paper review mechanism to understand the professional of teachers and students learning
Encourage teachers to attend seminars to keep their teaching professional and updated

Registrar Section

Plan the schedule and the status of the student enrollment
Command the school roll and the relevant information to understand the background of students
Integrate the junior and senior high school students' assessment results, and analyze them
Arrange the class of new students and the adaptability of the change classes
Understand the possibilities of further education for students and offer them the timely help
Check the academic level by the schools that alumni enter or their education background

Curriculum Design and Research Section

Recruit the professional teachers who specialize in their fields to assist students, and plan the creativity curriculum for junior high students with the step by step curriculum design to inspire gifted kids
Collaborate with some prestigious universities, and plan the creativity curriculum for gifted senior high students to gain extra assistance and specialization in a certain subject
Plan to explore educational activities to broaden gifted students' horizons
Hold some competitions at school and encourage students to participate in the competitions held by other schools around the nation
Help teachers participate in the school exchange activities