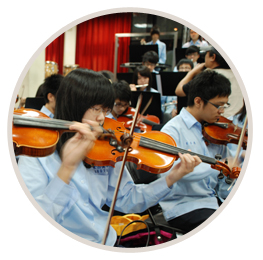 The impressions from the public of Dong Shan High School are excellent school culture, beautiful campus environment and high enrolment rates. The school holds the philosophy that they all strive for excellence in many aspects. What's more, the school has entered a new era after the construction of the new school building.
In order to immerse our students in an artistic musical atmosphere and cultivate 21st century students with good character and versatile talents, Dong Shan High School had begun to the establish the orchestra in 1997 before presenting the project to school board in July, 1998 upon gaining the full support of the school board.
The junior high school orchestra was officially established by August, 1998. The orchestra won the admiration of the staff, students and parents alike.
The orchestra has consecutively won the first prize and has been the representative of Taipei City to attend the national music competition since it's inception.
In order to make a good connection to senior high school music education, the orchestra has been extended to a 6 year program. Thus, the orchestra has developed into a well-rounded program. Senior high school established the orchestra in 2002 and have won the 1st prize the very next year in 2003, which is not only professional education in art and music but also the pride of the school.
The curriculum of orchestra:

Music not only cultivates students' temperament and gentle disposition, it also fosters wisdom for their lives. Most of students who join the music class rank top in academic performance. In the overall curriculum of the music class, we have excellent and professional music educators who have put a lot of work into the guidance of students. And their academic work has also improved.

The orchestra group (based on different levels):

7 groups as follows: Orchestra, Wind orchestra A, Wind orchestra B, Wind orchestra C, String orchestra A, String orchestra B, String orchestra C

One-on-one instruction:

The instruction is divided into three types; group lessons, individual lessons, and music appreciation class. The classes are arranged by instrument and proficiency level. The instruction is arranged by their teachers once a week at noon and in the afternoon of every Wednesday, Thursday and Friday. For those who want further education in music can have additional practice which won't affect their regular class under the guidance of the professors from National Taiwan University of Arts.

Professional staff and state-of –the –art equipment:

The orchestra consists of four administrators and sixty instructors hired from other schools and universities. Every instrument is taught and guided by an instructor who has the specialization in the specific instrument. These instructors have not only abundant experiences but also expertise in their fields.